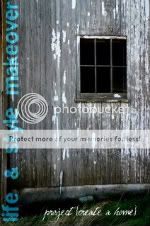 Happy Monday! Today's the official launch of a new blog I'm involved with called
"Project Create A Home".
The blog was developed by Meme of
The Screaming Meme
. Meme has gathered a group of women who will contribute life and style tips to readers on topics ranging from finances (Not me. I haven't balanced my check book in years), fashion (I won't be writing articles on this one either. When you're in a 12 step program to kick a seasonal sweater addiction you're not exactly known for your haute couture style!), organization, (What's that?), health (I took it in high school), fitness (The hubby got tired of my monthly "donation" to Gold's so I just quit this week!), etc. You'll actually find me over there now and then posting articles on something I really do know a thing or two about; my
passion
- flea markets, auctions, estate sales, etc. and the occasional decorating contribution.
It's an exciting site and today is the "Grand Opening!" There is a special giveaway where one lucky reader will receive a life and style makeover. Think "life coach" rolled into one giveaway! Many of the contributing writers are also having their own giveaways, so be sure to stop by
Project Create a Home
to enter for the grand prize and to check out the other giveaways.
I'm also having my very first giveaway to celebrate the new venture. I started this blog last October, really on a lark and have been amazed to discover how much I enjoy writing, meeting new friends and being inspired by others. I've also been totally amazed at how willing people, (I'm talking complete strangers here!) have been to help me with The Kramer Angle,
the barn show
, and to encourage me to follow my dreams.
With that in mind, I think this totally fabulous pendant from
Allison Strine's Ladybird designs
is the perfect give away for the occasion. The saying,
"Who is She to be brilliant, gorgeous, talented, fabulous? Who is she NOT to be?"
just about sums up how I started feeling about six months ago and think it's a sentiment all women need to have! You're fabulous! And why shouldn't you be!??
So, how do you win? Just leave me a comment and I'll enter your name in the giveaway! Don't worry, it will be really official. I'll write your name on a piece of paper, throw it in a basket and have one of my boys pull out the winning name! The winner will be notified!
Oh, and don't you just love this. You gotta love
Allison Strine
. Last week I wrote about how she is my absolute favorite seller on
Etsy
, and that I'm selling some of her creations at my barn sale. When I contacted her to order the pendant for the giveaway she said she wanted to donate it because she's all about "women helping women achieve their dreams"! Don't you just love it?
Good luck and have a fabulous day! You deserve it!
(Don't forget to click on the envelope to leave a comment for a chance to win the pendant!)